Business Capstone Project Ideas to Write an Amazing Paper
Looking for great business capstone project ideas? Boompapers should be your first stop. MBA programs include thesis and capstone projects. This paper is the culmination experience and bridges the gap between theoretical knowledge, practical skills, and applies the lessons learned from studies to real-world business problems. Although thesis projects tend to be more theoretically-oriented, they should still be practical. Students must identify real problems and find solutions.
This paper requires you to combine all the information you have gained from your program and demonstrate your understanding of business concepts, principles, and practices. This assignment is, in simple terms, the most important part of the program. It is also the most difficult.
If you want to impress your professor by creating a memorable capstone project, make sure to learn the differences between the thesis and the capstone project. Also, be familiar with the typical stages of research, and read capstone project examples to help you generate great ideas. Boompapers team of experts writers is available to help you with your business capstone project. Just make a request for " write m y capstone project". If you have any difficulties with this task let us know!
What's a business capstone and why is it important?
You should start by asking the question: What is business capstone? This project is designed to show that you are knowledgeable and capable of applying it in real-life. You must also bring creativity, critical thinking and analytical skills to the table. Business capstone projects should be practical, while a thesis paper is more theoretical. Students with professional aspirations will need to have it.
You should be aware of the following features:
This project is completed in the last year of your MBA program.

A paper takes approximately one-two semesters to complete.

Students must spend approximately 15-20 hours per week on their capstone.

It may contain 15-25 pages depending on your specific needs.

This document's main purpose is to solve a business problem.

A public seminar is where students present their projects.

The majority of capstone projects can be written in groups.
There is plenty of information online that can help students find inspiration and ideas for their MBA capstone projects. We get a lot of requests for business capstone project assistance because people want guarantees. They want flawless papers and an advantage over other students. Boompapers can help you if this sounds like your goal.
Business Capstone Project Ideas – Writing Step by Step
You now know how to choose business capstone project ideas, but you must also define how you want your paper to be structured and the steps you should take to make it successful.
Writing is a process that requires research. It is essential to research everything you can about the topic. Learn as much as you can about your topic. Take notes and see if the topic is well-researched. Verify that you are able to find reliable sources for your research. It is better to choose another topic if the topic isn't essential or has not been researched before. It is important to have sufficient background information. Your paper will not be useful if it isn't.
Looking for high-quality capstone projects?
Trust Boompapers skilled, motivated and reliable experts with your paper for a high-quality project!
It is important to write on topics that are interesting to you. If it's boring to you, it will be difficult for you to make it interesting for others. Your audience can only be excited by something that sparks and retains their interest.
Excellent work on the introduction
Although the topic may seem boring and dry, you need to grab the attention of your readers by giving them a captivating introduction. Use a quote, a rhetorical question, or statistics to grab the attention of your readers and get them to want to read the paper.
Do not forget to proofread and edit
Don't rush to submit your paper once you have completed it. You should put the paper aside and allow your mind to rest for a while. Next, go back to the project and take a look at it. You will most likely find many flaws, so it is best to fix them. Online tools can be used to check grammar and for plagiarism. All typos and errors must be corrected. Make sure that the format and structure are correct. Don't use sentences that don't make sense.
Tips for Business Capstone Project ideas
It can be difficult to write a business capstone project. However, if you have a plan in place, it can make the process much simpler. Use our business capstone project ideas to help you come up with your own idea. Keep in mind that you should choose the topic that interests you:
Not too broad;

It is not necessary to limit your search to just one source of research.

Interesting for you personally

It is very useful for business management.

Up-to-date, urgent
Don't rush to write once you have chosen the topic. You should create a plan that will allow you to gather all your ideas and guide you in the right direction. Do not abandon your plan. Follow it and you will be able to write as per your plan. This will help you save a lot of time.
Why are professors assigning students with capstone projects
Your capstone project should be considered a career opportunity. These papers can be very important for academic performance but not so much in the long-term.
Capstone projects offer many benefits, including:
They prepare you to face the real world.

 

Lectures and textbooks don't prepare for real-life situations.

 

However, when you are able to solve problems in a specific way, you can gain the confidence and skills to deal with these situations.

These projects can give you a head start.

 

You need projects to make your resume stand out as an entry-level professional.

 

This will let your future employer know what skills you have, and what challenges are you up for.

These tests improve your research and reasoning skills.

 

Your professor may ask you to create online ads, prepare financial models, and conduct data analysis on a business problem.

 

You will also improve your structure and design skills.
You will also appreciate many other benefits. Students work in teams to develop team spirit and teamwork skills. This task also prepares you for situations where you will need to conduct interviews quickly and show your skills.
How do you write a business capstone project?
You should be able to dedicate enough time to your capstone project if you are given it. You can't write a great paper in just a few hours, or even days. You can start the project early and break it down into milestones.
Select the right topic
It is very important that you choose a topic for your presentation. This will set you up for success and give you some ideas. It can be difficult to choose the right topic from a variety of MBA capstone projects. Here are some ways to choose the best:
Choose the topic that interests you.

Your project should relate to your studies and be practical.

You should ensure that you have enough research material.

Your topic must be fresh.

 

You shouldn't be writing about topics that were relevant 10 or more years ago. Instead, you should write about issues that are urgent right now.

Create a catchy introduction
Your capstone project's tone should be set in the very first paragraph. This chapter should introduce the topic and include the thesis statement. You should also provide some background information to allow your readers to get to the heart of your thoughts and to understand the message you intend to communicate.
      3.Make sure your body is clear and pertinent
The body is where you will present your research findings, literature review, and case studies. You can share your method and offer all the insights. This section does not have to be long, but it should contain a clear message that is well-structured and logical.
      4.End it with the conclusion
Now it's time to gather your insights and discuss how they support your thesis. Take everything you have learned and make any recommendations.
Business Capstone Project Ideas to inspire
Key or Main Account Management

Personal development and assessment

Analyzing the share price using interest rates

Property Market Management

Dividend Policy and Credit Crunch

A successful franchising system is essential

Is it okay to post opinions online?

Women empowerment in microfinance

Analyse of the most important legal issues in business

Analyse of the economic impact of cash flow free of charge

Review of enterprise risk management

Analyse of how risk management supports the growth of firms

Study of the effects of cash flow free of charge on the

Analyse of the ratio of financial statements

Review of social enterprise and non-profit: An extensive review

Analyse of bank profitability: Comparing International and Local Banks in the USA

Cross-cultural management and productivity

Local customization versus global standardization

Quality management systems in business: What do they do?

An analysis of the supply chain management in textile manufacturing

American companies are increasingly industrialized and globalized

Multinational corporations: How strong presence can help them grow

Market management is essential for businesses

Businesses need to understand the importance of a risk assessment system

Globalization and business:

What is the significance of cultural awareness these days?

Amazon, eBay, among other examples of the increasing importance of technology

Why do so many startups fail?

A winning business plan for your startup venture

What does the free flow of cash have to do with the economy?

Analyse of the market for a new app

There are ways to resolve team conflicts while working remotely.
Looking for business capstone project ideas?
It's a smart idea to look for examples of business capstone project ideas. Here are some examples:
Study abroad courses are offered in Asian and European countries for students.

 

These courses are supplemented by meetings with local business leaders and companies.

 

After the program has been completed, participants will be required to present a final presentation on economic integration, banking lending, operations management, and entrepreneurship in a particular market.

Students work with consultants to solve business problems.

 

Partner companies like Walmart, Ameriprise and P&G will tackle these problems so that students can concentrate on practical application of the knowledge and skills they have acquired through their education.

Students are given some financial resources to start their own businesses.

 

Students will need to create a business plan, do extensive research, develop ideas and implement strategies.
You can also find student presentations that you can learn from if you dig deeper. These presentations are very useful because they can inspire you and help you to create great business capstone project ideas. You must ensure that your paper is not lost. Don't forget to be original and not rely on any samples you may find online.
Real experts can help you with your business capstone project ideas.
You now know how crucial business capstone project ideas are. Students should not think about their hobbies or personal lives. Instead, they need to focus on their full-time and part time jobs. You must be focused only on business capstone topics if you want to make the most of this paper.
This is not a problem. If you are unsure of your abilities, time, or knowledge, you can seek business capstone project assistance. You can trust Boompapers experts to help you with your assignment. They have at least a Master's in business and practical experience.
We choose interesting business capstone project ideas for your capstone projects. To find a solution that is authentic to the problem, we choose it. Once we have chosen a topic, we create a paper that is ambitious and shows the skills and knowledge you have gained through your education. Our papers are unique and meet all your requirements.
You don't need to worry about deadlines when you order paper from us. We understand how important it can be to submit a capstone project in time. That's why we assign an author who will begin work as soon as possible. Our team can help you if you are already working on your presentation but realize you don't have the time. Even if you are several hours away from your deadline, our team will do their best to help you with project assistance writing.
Many students, from all walks of life, order papers to relieve the stress. Your mental health will be affected when you finish your education. You have all the knowledge and know how to complete your capstone project . If you feel you need help, we are here to assist you. Now is the time to place an order and start exploring new possibilities!
Last words
Original business capstone project ideas are not enough to help you submit the best project and earn an A+ grade. It is essential that you do extensive research and present your work clearly and efficiently. Reach out to us if you need more business capstone project ideas for your capstone project or academic support to finish it. Our team includes highly qualified academic writers who will assist you in finishing your capstone project. They can help you with any business capstone project ideas, and they are affordable. There is no reason to wait. To get the best possible grade on a high-quality capstone project, place your order quickly.
Get Experts to Help You Write Your Business Capstone Project Ideas and Resolve Your Problem On Time
Boompapers writers are extraordinary. Only those who are capable of producing the high-quality essays we demand will be hired. Each writer must submit several test articles to prove their worth. They must also submit a resume that demonstrates their qualifications. This allows us to offer different levels. Our platinum level service is for writers with a master's or higher degree and a success rate of 90%+.
Boompapers writers are qualified and skilled in a wide range of subjects. They are able to write about history, science, geography, technology, business, and any other subject that is part of a university or school curriculum. There are even specialized writers that can cover specific topics. We can complete any type of capstone assignment.
Here's a detailed look at why you should purchase business capstone project ideas online at Boompapers. We have the answer if you're struggling to manage your workload. We can also help you create a capstone project essay to end your academic year with a bang. Take a look at our website and check out our writers.
How to Buy a Capstone Project Online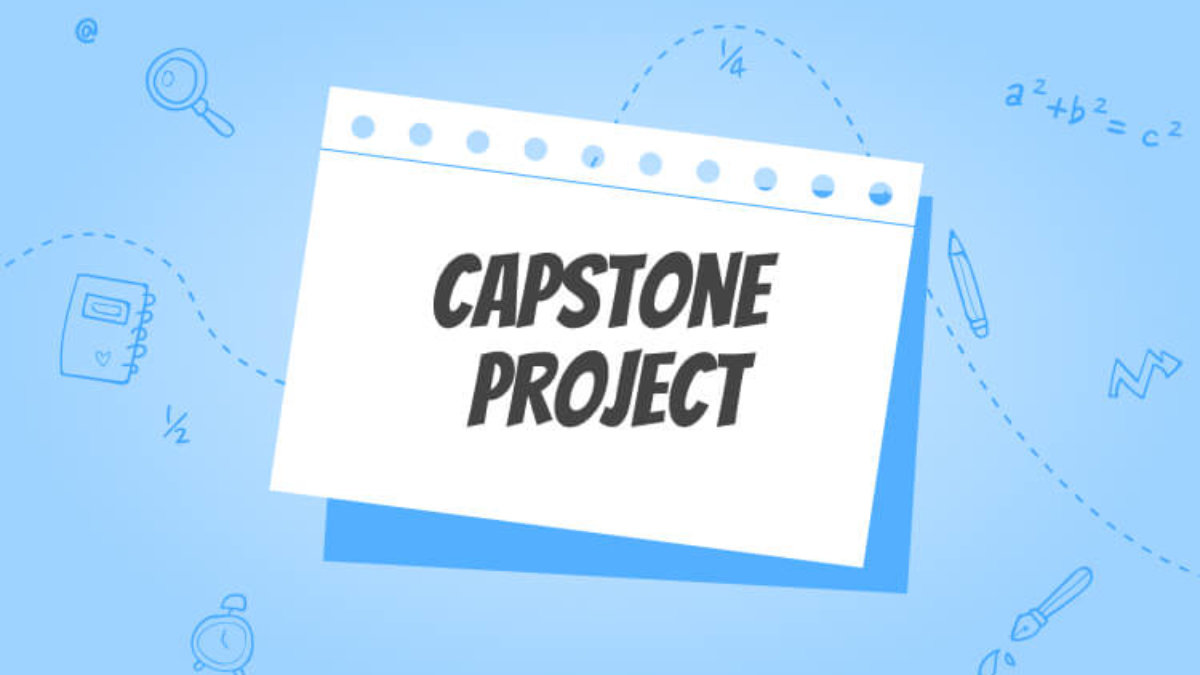 Now you should be able see why our professional thesis writer is so amazing. We are happy to provide additional evidence and demonstrate how simple the ordering process is. Ordering your business capstone project ideas is easy with just four steps.
Click on the Order Now button. The first step will be completed. This is where you will provide basic information about how to write a capstone project, such as the type of paper, topic, word count, and finish date. The second step is to choose the level of service that you want – standard, premium or platinum. You can also select whether you would like any official cited materials, along with the format in which they should be entered.
Lastly, you can provide information about your capstone project essay. You can also send us any files that may be helpful in the writing process like coursework or study materials. You can also choose your writer. We can either choose one for you or you can let us select one who matches your project. Once you have filled out your order form, make payment and wait for the document to be completed. The completed article will be sent back to you as soon as possible. This should have helped you to see what you can expect from us if you need assistance with your capstone project.