How do you create the perfect essay outline worksheet?
It can be difficult and stressful to write an essay, especially if you don't know where or how to begin. A structure for an essay is how you organize and organize your main points into paragraphs. This makes it easier to write essays. An outline is a plan that you create before you start writing an essay. It helps you develop a clear, concise structure for your paper. You will be able to clearly define the direction and focus of your paper once you have created an outline.
Although it may seem tedious, creating an essay outline worksheet simplifies the process and makes writing much easier. An outline will help you organize your thoughts into logical and meaningful sentences. You will be able create an engaging, well-structured essay once you have established a framework.
Three Benefits of Outlining Your Essay
A research paper outline or essay outline worksheet helps you stay organized as you work on your writing.
This organizes your research. 

You can organize your research and reasoned points by creating an outline. This will allow you to find the right place to put them in your essay.

 

This organization will allow you to assess the strength of your thesis.

 

You have likely chosen a strong thesis if you are able to fill your outline with supporting evidence.

 

You might need to reconsider.

It shows a logical flow of points to subpoints. 

The majority of outlines are alphanumeric.

 

They alternate between capital letters, Roman numerals and Arabic numerals to create points and subpoints.

 

You can also use staggered bullet point and decimal outlines as essay outline templates.

This allows you to be flexible. 

Your formal outline can contain full sentences or you can use shorthand.

 

The outline is not your final product. It is meant to help you organize the content and find a logical order.
The basic parts of an essay
Each essay is unique but they all follow the same essay structure. Each essay begins with an introduction section. The body paragraphs should support the points made in it. The conclusion section summarizes and reiterates the thesis.
The introduction is the first section of your essay. This is the section where you introduce your topic. This is also where you put your thesis. It is the final sentence that explains your argument. The introduction of your essay should be brief and grab the attention of the reader quickly.
You might only require two supporting paragraphs for your essay, but it may need five or more. You can write as many or as few body paragraphs as you wish, unless your professor has given you a number. One paragraph per source should be used to support your thesis. You might need to alter this depending on the type of essay that you are writing. In a compare-and contrast essay, for every comparison or contrast, you will need to write a section that is at least one paragraph in length. An analytical essay will have one body section. This is for every point you support your thesis.
You're nearly there when you reach your conclusion. This section of your essay is where you summarize and wrap up the information you have provided in the body paragraphs. This is the place to share any last thoughts or perspectives with your readers before they close your essay.
What should an essay outline worksheet contain?
A typical essay outline worksheet includes three components:
i) The main idea or thesis statement is what you should be writing about. Everything else will relate to it.
ii) Supporting points: A five-paragraph essay will require three supporting points, while a longer argumentative essay might require between three and five supporting points. You will need points for a narrative or descriptive essay. These are the stages of your story that create suspense and move it forward.
iii). Conclusion – How do you plan to close your essay? End your essay with a summary. This will give you a clear idea of what message your audience is expecting from your writing. It can also include thoughts or further research on your topic. This will vary depending on your level of writing. For a five-paragraph essay, a simple summary may suffice. However, a more detailed and reflective conclusion might be necessary for a longer argumentative piece of research paper or article.
How long should an essay outline worksheet be?
It all depends on what type of essay you are writing and how complex your arguments are. Perhaps you are writing a five-paragraph essay. Your outline should be no more than a few lines, provided you include your main idea, supporting points and a rough conclusion.
A more detailed essay outline worksheet is required for argumentative essays or essays at university level. It should contain the same components as the simpler outline, but include more detail that includes evidence and explanations. This should not exceed 1 to 2 pages.
When is it appropriate to create an essay outline worksheet?
An essay outline worksheet is not something you have to do in a certain time frame during writing. The amount of research required, your level of familiarity with the topic and whether you already have an idea about what you are going to write about all play a part in this decision. You might be able draw a rough outline right away after being given an essay question. However, you may need to research the topic to find a thesis or angle.
Outlining can be a great way to determine if you need to do additional research, improve your thesis, or learn more on the topic. If you have difficulty creating an outline that includes supporting points, evidence, explanation, and support, it is likely you will need to read more to support your thesis, or to gain a better understanding of the topic in order to form an opinion. When it comes to writing outline, the only rule is to first write one before you dive into your essay draft.
How can I modify my essay outline worksheet?
Yes! An essay outline worksheet, among other things, helps you to think through the logic and flow of your essay. Changing your outline is a part of the process. You might even have to revise or change your outline if you are sharing it with someone else for feedback or review.
These are questions to ask your peers, educators, or yourself when you want feedback on your outline.
Do you know it?

Is it logically sound?

Is it crystal clear?

Is the thesis possible?

Does the supporting information make sense?
Also, you can ask yourself whether you have sufficient reliable sources to support your points. Your educator may be able to give you feedback and point you in the right direction.
These guidelines will help you create a solid essay outline worksheet.
Select a topic and create a purpose
It can be difficult to pick a topic for college essays. Setting an objective for your essay will give you a clear direction and purpose. This topic helps you to focus, identify important areas and highlights key concepts. To make the topic understandable to the reader, it must be specific.
To be able to effectively communicate the topic to your audience, you must have a solid understanding of it. Your target audience should be familiar with the research topic. Specificity in the topic will help your audience understand what the article is about. Avoid using complex terms that are difficult to understand by your readers.
Your research topic should be structured well to provide value to your audience. Your audience should feel satisfied with the answer to their question. The topic should be concise and well-defined. A topic that is good should be clearly defined and answer a question.
Make a list of the main ideas
An outline can help you organize the key ideas and points you want to include in your essay. You can list arguments that answer your research question. A list of resources and steps can be included. Your points should be listed in a logical order or numerical order to ensure that they relate to your main ideas.
This step is designed to organize the main points and ideas in an order that makes sense to the reader. You can use cause and effect, classification or the chronological method to organize your ideas. Your essay will be clear, concise, organized, logical, relevant, and focused if you organize your main ideas. It is easier to create a strong, effective thesis statement by organizing your thoughts.
Add substance to your main points
It is important to include relevant content that supports each idea after you have organized your main points. To make your essay more understandable and easier to interpret, your main goal is to expand upon your original ideas. Relevant examples, facts, statistics, and theories are the best ways to add substance. Your arguments will be more logical and focused if you include relevant and supporting details.
Check and modify your outline
Revisiting and revising your outline will help ensure that you include all key points and ideas in your essay. Revising your outline will help you organize your thoughts in a way that is most appropriate for the purpose of your essay.
Essay Outline worksheet: General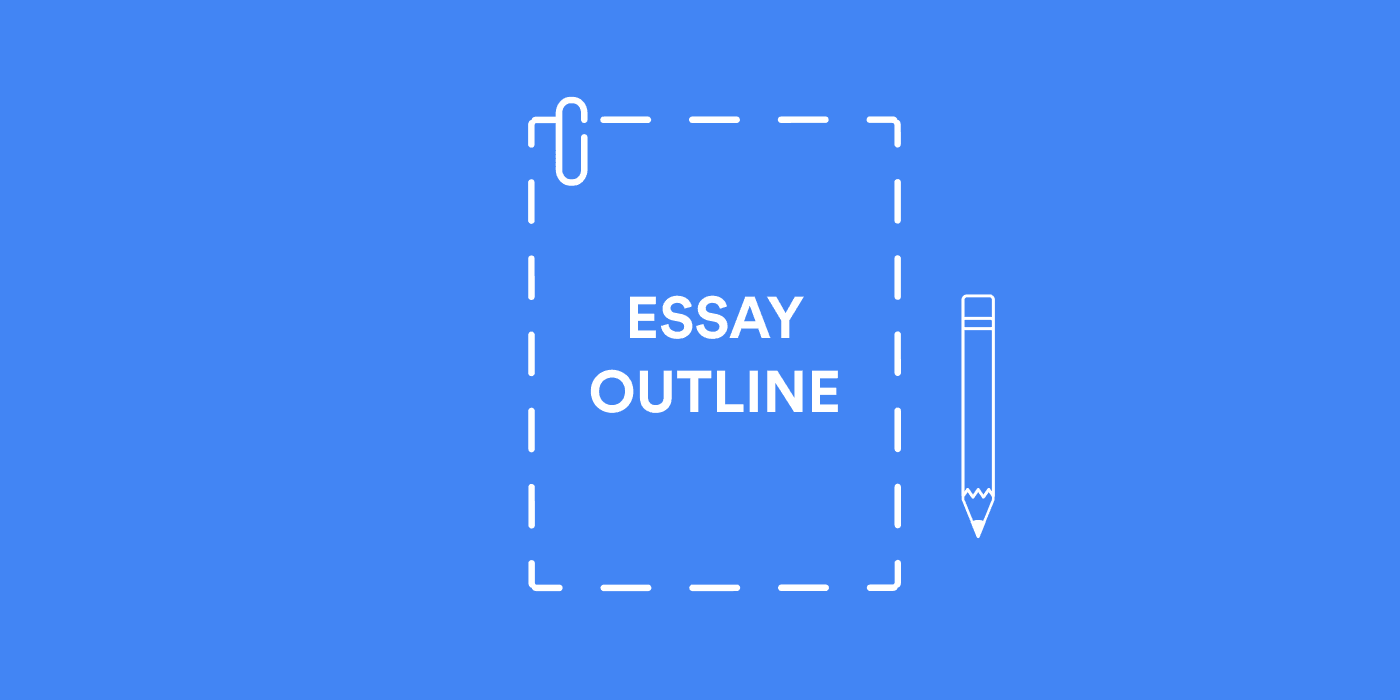 I.
Introduction
a) Introduce a topic
b) Write a thesis
II. Body. Paragraph-1
a) Write a topic phrase (the argument behind your thesis).
b) Support this argument with data, facts, and examples
c) Describe how they relate to your thesis
III. Body. Paragraph-2
a) Write a topic phrase (another argument to support your thesis).
b) Support this argument with data, facts, and examples
c) Describe how they relate to your thesis
IV. Body. Paragraph-3
a) Write a topic phrase (another argument for the thesis or counterargument).
b) Support the argument or give reasons why the counterargument isn't working: facts, data, examples
c) Describe how they relate to your thesis
V. Conclusion
a) Summarize all the main points
b) Restate the thesis
c) Add an action call: What you want readers do after reading your essay
It's Wrapping!
There are many types of essays, so you will need to write them all in college and school. They can be persuasive, expository or narrative in their basic structure. However, there are small differences that will help you identify their requirements and improve your academic writing skills. You can create flawless works and get high grades by understanding these differences and lining up your writings accordingly.
An essay outline worksheet is what you will need to organize your information so that you don't miss any details while writing. You can create essays faster and more efficiently if you are able to create an outline. Keep in mind all components of an essay. You learn critical thinking. You become a better writer.
The main essay format is a guide for any writer, regardless of their writing style. The general essay outline worksheet is a great tool for those who are writing a college paper or dissertation. It also gives you all the references and ideas that will be needed. A persuasive essay outline is not different from a research paper plan. Knowing the format of an academic paper outline can simplify the writing process and make it much easier.
Writing assistance
Are you looking for the best essay writing platform? For a compelling and well-structured essay, you can use Boompapers writing services. We can help you with the outline of an MLA essay or the whole essay. We are a professional writing firm that helps students of different courses with stressful schoolwork, such as essays, annotated bibliographies and case studies, research papers/course papers, journal articles, term papers, journals, theses book reports, dissertations, and course/term papers.
These tasks are often needed by students for various reasons. Many people don't have the time or energy to complete their papers due to multiple responsibilities. Some people seek our help because they are tight on deadlines. Others may be afflicted by illness that prevent them from finishing their assignments on time, have too much work, or struggle with language and writing.
Our primary goal is to assist them in meeting their deadlines while also producing high-quality papers. Our essay writers are available to help you create a research paper outline MLA. They will deliver the high-quality work that you need.
Boompapers company has been around for 10 years. We have a solid reputation with collegians because we provide them with the highest-quality papers. Trusting us is not only a matter of years of experience. We also offer the following benefits:
Assistance on Various Subjects
Are you looking for help in writing an essay or a history paper outline? Our top historians are available to help you with your work. You can get help with papers from engineering, medicine, and business, as well as other subjects.
To save time and help clients obtain our services, we have created a simple order system. We don't require clients to complete complicated sign-up procedures to receive our services. We will set up an account for you once you have placed your first order. To grant access, we email clients the login details.
Our service ensures that clients get the highest quality writing and editing from us. All instructions you give us as clients are strictly followed. A quality assessment team is also in place. It is composed of professionals who are certified to ensure that all requirements have been met and that quality standards have been met.
Our service is available 24 hours a day. Clients can place orders at any hour and still receive the support they require. Clients can also reach us 24 hours a day for assistance with any questions they may have about our service.
Our strict selection process, which involves writing and grammar tests, ensures that only competent essay writers are hired. After passing a proficiency test, all essay writers are trained. We can also confirm their education by having these writers present their diplomas. To fulfill our clients' orders, we only hire the best. Currently, there are more than 1000 writers who have a Master's degree or higher. Boompapers essay writers are native speakers of the UK and US, so they have excellent language skills. They follow all instructions concerning the dialect given by clients.
Get Discounts and Other Bonuses
Our services are always affordable. Our clients are often students and therefore have to work within their budgets. To ensure that more people can afford our papers, we have made our prices more flexible. We offer discounts to our clients such as a discount for first-time clients. Referring clients to us will receive a referral discount. Holiday discounts are also available.
We recognize our loyal clients and have a bonus system to reward them for staying with us. Clients who place consecutive orders from us receive a 5% bonus on the amount they have paid. The bonus is added to the client's account. They can only use the bonus as partial payment for any future assistance. With sufficient bonuses, you can order essays without having to pay anything.
Complete Client Confidentiality
Clients don't have to be concerned about instructors discovering that they received essay help. All our clients are kept anonymous when they purchase our services. All of our clients' personal information is kept private, even to our essay writers.
When clients make transactions with us, we guarantee their safety. We use secure and reliable payment methods like MasterCard and Visa to ensure client safety. All clients can transact quickly and smoothly as a result.
We ensure our customers' interest are protected by our money-back guarantee. If the customer does not follow the instructions or cancels the order, refunds will be granted.
We can help you with your essay at a reliable price
Need help with a book outline? Or a dissertation outline? You can trust our writers to complete this task with high quality. We offer competitive prices and deliver papers on time. Get your order now